Best Toothbrush For Sensitive Teeth
A Totally new approach to clean that you will feel right away!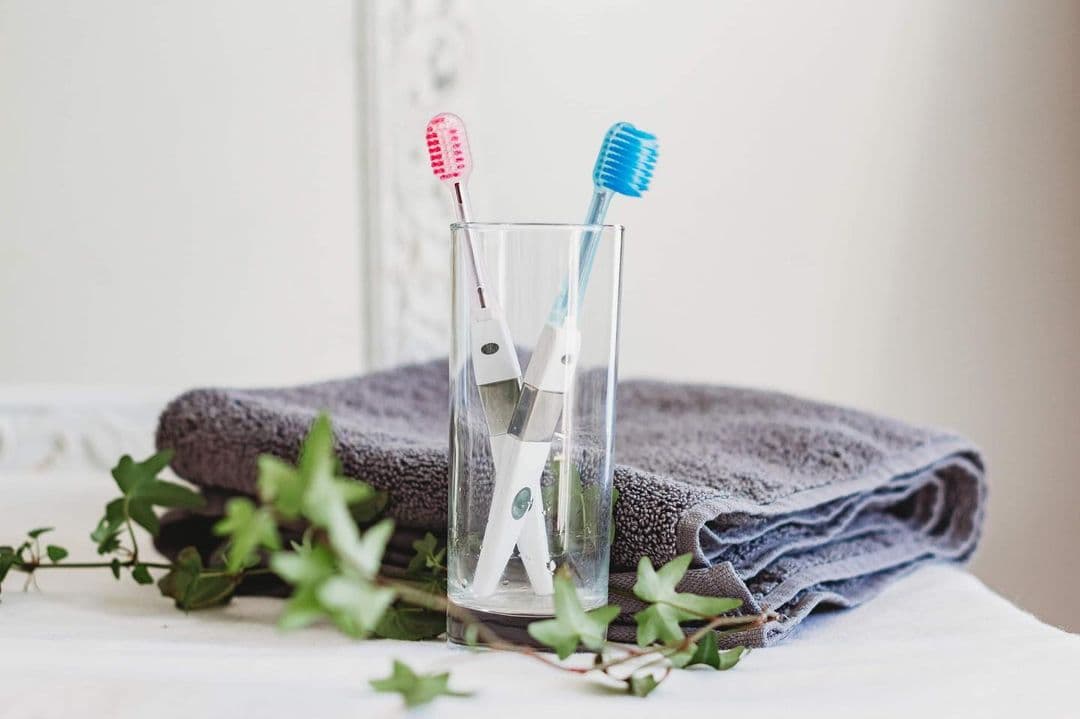 Best Brush for Teeth in India
Ranked #1 for toothbrush on the top Japanese review website.
Highest-rated brand name product among top 30 toothbrush brands in Japan.
Nearly 50% of IonicKiss customers have used the product for 5 or more years.
Ionic toothbrushes are the best soft toothbrush for kids, adults, and for people above age available in the market. The brush produce ions to remove plaque that carries a net positive and negative charge this is the best toothbrush for tartar removal. Through this mechanism, it is clinically proven that it removes up to 48% more plaque than a manual toothbrush. After its usage, you will notice the difference between both types of brushes i.e manual toothbrushes and ionic toothbrushes. 
Check Our Plaque Removal Toothbrush
What studies shows about Ionic Toothbrush?
After the research of the National Library of Medicines which was explicitly done for the optimal designs and mode of action of toothbrushes finds it is worth mentioning. The research was conducted on 45 people and the result was that Ionic Kiss Toothbrush is very much effective. In the research, it was found that an ionic toothbrush is the best to brush for dental plaque removal.

Economical Replacement Brushes

How do ionic toothbrush works?
Before understanding the mechanism and working we must understand the materials used in that brush. The brush is built up with a titanium battery in the handle of the brush. The battery is connected with a titanium rod that runs throughout the brush.
Now the working procedure starts with the brushing of teeth. We need to get a little bit of moisture in our hands and touch the metal band which helps in creating a closed circuit. While brushing, the ion charge comes into play, which helps change our teeth' polarity. 
Before understanding it let's understand the science behind it…
As we know that similar pole attracts each other and opposite poles repel each other. While brushing the toothbrush releases a lot of positive ions which helps in changing the polarity of teeth from negative to positive. Now when both plaque and teeth have the same polarity then they repel and remove all the plaque instead of attracting it.
One more additional benefit of brushing with an ionic toothbrush it also helps in neutralizing the acid produced by bacteria in the mouth and also helps in removing stains from your teeth too.
There's a reason the 'Iconic Ionic' brush is so popular.  It works! With over 5 million sold worldwide and a double-blind clinical trial showing marked improvements in both plaque scores and gingival health, the science speaks for itself.
Extra bits of takeaway wisdom.  Adding oil pulling a few days a week kicks your regular routine right up to the next level. And of course, we can't end without telling you about the easy, no-fuss, way to protect your 'Iconic Ionic' brush.  When you're done brushing, tap off the excess water from the bristles and pop on the Snap-On Toothbrush Protector, and let the active vapors from the essential oils permeate the brush…making it fresh and hygienic.
How does Ionic Toothbrush remove Dental Plaque?
Dental plaque bonds to your teeth because of a positive attraction created by your saliva — a bridging bond.
Doctor Reviews & Customer Testimonials on Ionic Toothbrush
Our Products Available on
How to choose a toothbrush
Types of Toothbrush with ionic actio
How to remove tartar from teeth without dentist